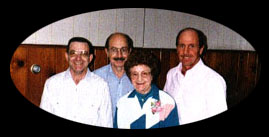 Ada & Sons
| | |
| --- | --- |
| Richard, Marya and Justin | Jeff, Angie, Samantha & Claire |
| | |
| --- | --- |
| Scott, Shelia and Twins | Ray on the Beaver Dam |

Ada Stanley (photo on her 80th birthday) is now 82 years young. She is the widow of Ray M Stanley and lives in Mt Ayr, Iowa. Currently bowling on two leagues and playing bridge with three clubs, it is hard to keep up with her pace. Just try too. A very long time ago she gave birth to three farm boys:


Roger Stanley, the oldest, lives in Wheat Ridge, Colorado with his wife Patty. He is employed at Coors Ceramics.


Neil Stanley, the middle boy, over a half century years of age, is my wonderful (well most of the time) husband. We got married in Hawaii and currently live in Juneau, Alaska.


Gene Stanley, the youngest boy, lives with his wife Jann in Webster City, Iowa. He does long distance truck driving.
Richard and Marya, Neil's youngest daughter, have given us our latest grandchild, Christopher Allen. And just a few years older is Justin John Wesley. They live in Reidsville, Georgia.
Jeff Hendren, a career Army officer, is married to Neil's oldest daughter Angie. They have two beautiful daughters: Samantha, born on Jan.29,1991 and Claire, born on March 7,1992. This family is currently stationed in Eatontown, New Jersey.
Scott, Neil's oldest son, is marred to Shelia. They have been doubly blessed with two sets of twins just thirteen months apart. Jodi and Jesse were born on May 4, 1994. Marshall and Matthew were born on June 28, 1995. All reside in Vidalia, Georgia, home of the famous Vidalia onions.
Ray, youngest of Neil's children, also lives in Vidalia, Georgia. He recently moved there from Arizona and previously from Alaska. The above picture is a few years old and we hope he will send us a more recent photo of himself.
Russell Verdugo, Susan's son, is serving in the US Army with the U.S. Army Bomb Squad in Washington D.C. You can have some fun viewing his camo photos in a VRML 3DImage Cube format.
modified August 1998
J Children are a gift from God... (Psalms 127:3) J

---
nsstanley@netscape.net