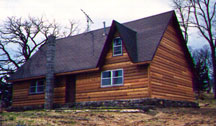 Stanley's Grand River, Iowa
Country Home
Welcome friends, relatives and fellow World Wide Web surfers. Welcome to our Iowa home. It is located about 3 miles SouthWest of Grand River in south central Iowa. About a 20 minute drive to the west of our home is the town of Leon, Decatur County seat.
You will find multiple grains grown in this area including soybeans, corn, sorghum and even some wheat. Try some sweet Iowa corn picked right off the stalk and fresh strawberries grown in your own garden. You definitely won't go hungry.


Bambi

Abundant WildLife
quail
cowboys
pheasants
pigs/hogs
honey bees
wild turkeys
whitetail deer


Rosie

Neil pursues his favorite sport of hunting and the meat is always delicious. He is a lifemember of the National Rifle Association of America and the North American Hunting Club. Neil had a great time on his Alaskan Dall Sheep Hunt August of 97. Three years later he took a beautiful Alaskan caribou in the same area. Neil does his own taxidermy work. Check out the State of Iowa DNR hunting information site. All the carpentry and handyman projects around our home are done by Neil. In fact he is also a life member of the Handyman Club of American. Seems like Neil can build or repair almost anything.



Susan's main hobby is the computer, esp. e-mail, the Internet and creating our personal web pages. Susan has many years of operating room nurse experience. She is a member of the Association of Operating Room Nurses and currently employed full time by Iowa Methodist Medical Center in Des Moines. She also has had a few years experience in correctional nursing, along with supervision, with the maximun security Lemon Creek Correction Center in Juneau, Alaska. Other interests include reading, walking and enjoying the animals.





We met through Alaska Men Magazine. Neil was living in Anchorage, Alaska and Susan was living in Kailua-Kona, on the Big Island of Hawaii. He was looking for a Christian woman to share his life with and for the last 10 years we have been loving our Lord Jesus together.
Trinity Christian Church is where we currently attend services.
We like to give of our time and talents to those less fortunate, especially on team trips to poorer countries. To share the Peace of God is a joy. We enjoy traveling and experiencing God's beautiful creation. One of our dream vacations is to spend one to two weeks on Bora Bora.

Enjoy some of our other Stanley Pages:



LINKS



you might find interesting:
Iowa Farm Bureau (In the heartland)
The Complete Guide to Iowa Internet Sites
Tulip Time Festival in Pella (a touch of Holland)
The Amana Colonies (Willkommen to the seven colonies)
Iowa State Fair (2001 & Check out the out-season events too)
The Four Spiritual Laws (that govern your relationship with God)
US Post Office (Need a zip code or an official USPS abbreviation?)
Bible Gateway (Search the Bible in nine languages & mutiple versions)
Iowa Division of Tourism ("Midwest travel at it's vacation best in Iowa")
Boone & Crockett Club (Highest standards of fair chase & sportsmanship)
Iowa Farmer Today Online (Check out the CornCam & SoybeanCam links)
Audio Bible Online (The King James Version narrated by Alexander Scourby)
Translation (text to German, Italian, Spanish, French, Portuguese or Norwegian)



Susan & Neil
nsstanley@netscape.net
---
---
Created by Susan C. Stanley


modified January 2003